How it works – CRX Rental Center Module
This comprehensive module is the beating heart of CRX Booking Engine and Car Rental Software. Working with an easy car rental software makes a world of difference on your daily operation. Here are a few powerful features that are included: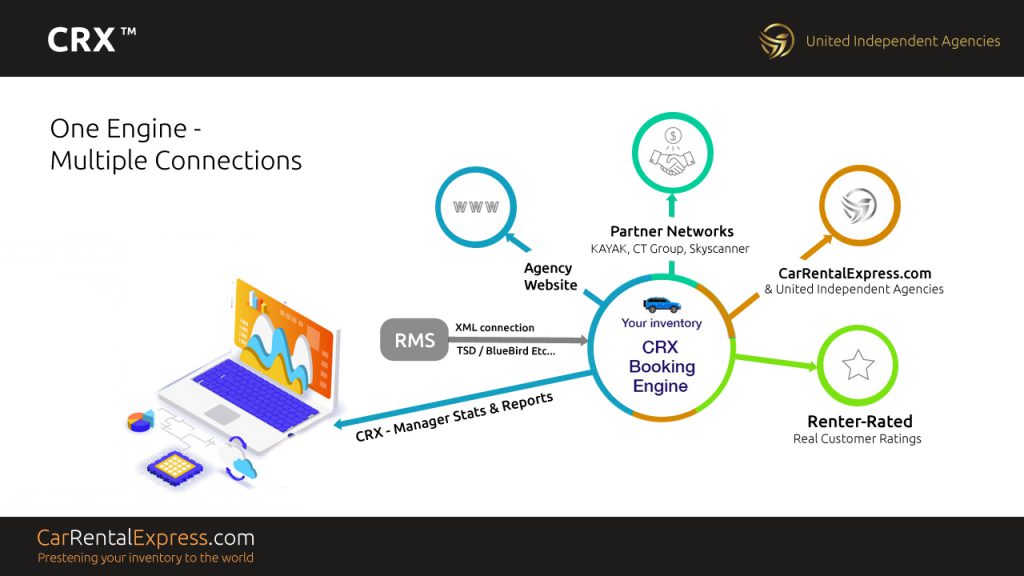 CRX car rental booking software-
Rate Quotes
Rate Quote Engine: All you can ask from an easy car rental software: Robust, customizable filters, for location, vehicle type, reservation source, rental length, geographic restrictions, driver's age, corporate and special rate codes.
Upfront Pricing, Every Time: Renters see the full price of their rental throughout the Revolution reservation process. The total pricing display allows renters to view their rental cost with mandatory fees, taxes, and extras included.
Rate Quote Saving: Renters can save or e-mail themselves a rate quote at any point during their rental, increasing return visits and completed reservations.
4-tier Availability Control: Rate settings are available for confirmed reservation, reservation request, info inquiry, and unavailable rentals.
Rate Administration: Allows management of rental rates both seasonally, or by calendar day.
Promotional Rates: Allows you to create unique rate offerings for special groups, coupon holders, travel agents, corporate clients, insurance agents and more
Flexible Time Units: Create package rates, weekend rates, pro-rated daily rates, holiday rates, and more. Revolution's rules engine ensures that the renter gets the right quote.
Insurance and equipment options: Charges are presented to the renter in their rate quote. Taxes and mandatory fees are included in the total price.
CRX car rental booking software-
Advanced Configuration Features
Inquiries: Renters can request more information about any vehicle rental after they've received a rate quote. Inquires are immediately stored in Revolution for viewing.
Vehicle Rules: Set credit card requirements, age requirements, rental length minimums and maximums, and more.
Age Restrictions: Create age ranges and unique underage charges, for automatic inclusion in the renter's rate quote.
One Way Rental Controls: Administer one way rental rules and drop-off charges.
Customizations, Notifications and Messages available at the CRX car rental booking software
Notification E-mails: Create customized, automatic notification e-mails to renters for booked reservations, inquiries, and reminders of upcoming reservations.
Messages and Disclaimers: Revolution allows you to enter messages during the rental process, to inform renters of special restrictions, procedures, or any other information, to save hassles at the rental counter.
Customizable Reservation Form: Select the information your company requires from the renter in order to secure their reservation.